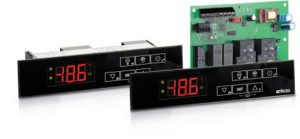 EVR Range of Controllers are used for:
Small Cold Rooms
Refrigerated Display Cabinets
Ice-cream and pastry Counters
EVR
is a range of controllers with elegant design for the management of small cold rooms, refrigerated display units, ice-cream, pastry and butcher's shop counters.
They are available in compact and split version; the user interface consists of a custom display of above average size (with decimal point and function icons), six touch keys and guarantees an IP55 protection rating, for easy cleaning.
The controllers have a 16 res. A in-rush @ 250 VAC or a 30 res. A @ 250 VAC electromechanical relay for the direct control of high power compressors, avoiding the use of contactors. Some controllers have the real time clock (to store the HACCP alarms), ventilation management in both "on-off" and modulating mode (with an external speed regulator) and the adaptive defrost management.

All EVR controllers have energy saving strategies and some can protect the compressor against mains voltage fluctuations, preventing it from being switched on (or causing it to switch off) if voltage is outside an allowed range, while trying to ensure the cooling of the room (EVCO patented function).

Installation is by panel (from the front), with hooking elastic fins.