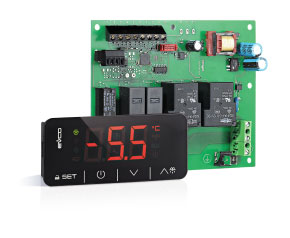 Refrigerated display units
Ice-cream and pastry counters
In split version
EV3S is a range of elegantly designed controllers for the management of refrigerated display units, ice-cream and pastry counters.
They are available in split version; the user interface comprises a large custom display (with decimal point and function icons), four touch keys, and has a guaranteed IP65 protection grade, for easy cleaning.

The controllers use an electromechanical relay, rated load 30A @ 250VAC, for direct control of high-power compressors, thus avoiding the use of contactors. They can also be connected directly to the load.

They can protect the compressor (causing it to switch off) if the condenser temperature is outside an allowed range; they have the adaptive management of the defrost function and can implement energy-saving strategies.

Installation is by panel, with snap-in brackets.

Controllers for refrigerated display units, ice-cream and pastry shop counters, in split version
EV3S204N9
EV3S205N9
Power supply
115-230 VAC
Analog inputs
room probe (PTC/NTC)
evaporator probe (PTC/NTC)
condenser probe (PTC/NTC)
(1)
(1)
Digital inputs (for NA/NC contact)
door switch/multipurpose
door switch/multipurpose 2
(1)
(1)
Digital outputs (electromechanical relays; res. A @ 250 VAC)
compressor
30 A
30 A
defrost
16 A
16 A
evaporator fan
8 A
8 A
load 4 (default room light) (2)
16 A
16 A
load 5 (default alarm) (2)
30 A
Communication ports
MODBUS TTL, for EVKEY programming key and for other EVCO products
Other features
low or high relative humidity percentage operation
condenser overheat alarm system
adaptive defrost management
"energy saving" function
"quick cooling" function
Notes
(1) configurable for analog input for PTC/NTC probes or for digital input
(2) configurable for room light, demisting heaters, auxiliary, alarm, door heaters, heaters for neutral zone operation, condenser fan or compressor 2.
Available options

Alarm buzzer.